People have been drawn to explore the Badlands long before it became a National Park. This unique terrain is full of surprises that keeps visitors wanting more. And yet, it is still probably one of the most underrated National Parks in the United States. Being only a 60-minute drive from Rapid City, I am always shocked when people ask if it's worth the visit. Because the answer is a thousand times YES.
1. A breathtaking terrain but also amazing wildlife sightings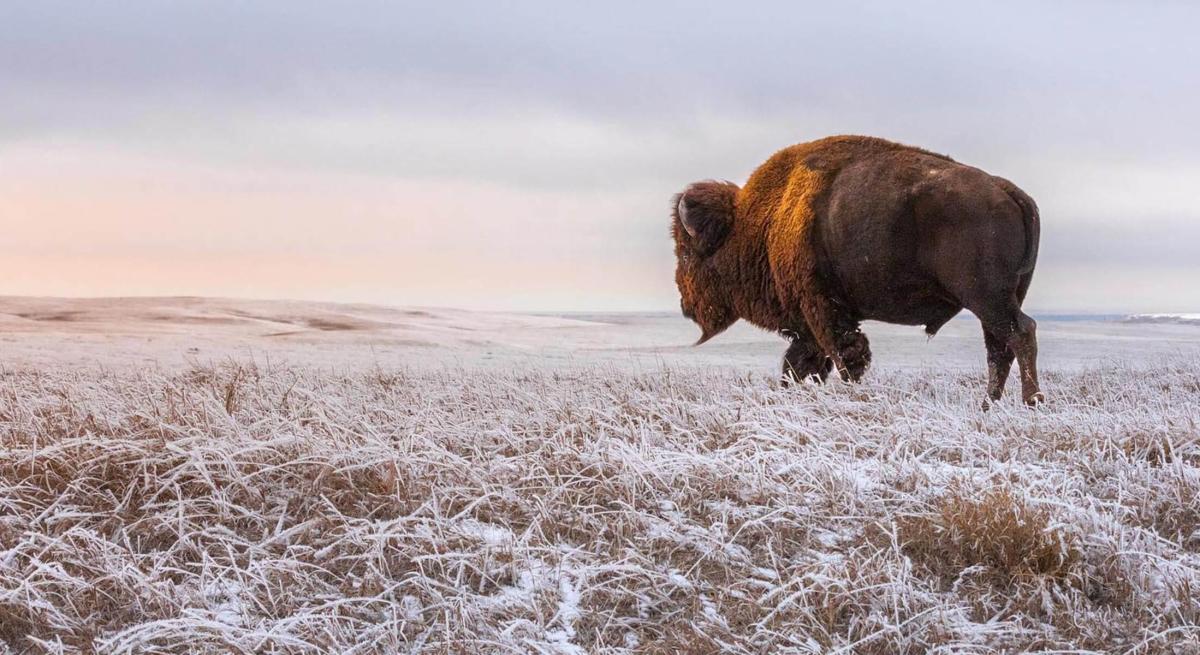 The Badlands terrain is one of the oddest in South Dakota. It's a sudden change in the landscape from rolling green hills to these large, layered buttes. The "alien land" that is so often used to describe it is honestly the best way to portray it. Which is why it's even more surprising to learn about all the plant and animal species that call this seemingly desolate place home. 
Take a cruise through the park on either Badlands Loop Road or Sage Creek Rim Road and you're bound to see some of this incredible wildlife. On the jagged buttes keep your eyes peeled for bighorn sheep, in the rolling grasslands bison will be grazing, deer and pronghorn antelope will be prancing, and the prairie dog colonies alone provide habitat for around 200 plant and animal species – also the best place to be if you are watching for birds of prey. The park is also home to the endangered Black-footed Ferret. Some of the lesser seen wildlife includes coyotes, badgers, bobcats, and the not so thrilling rattlesnakes though they are an important part of the prairie ecosystem.  
It's important to note that while the wildlife in the park is use to traffic and people, they are still very wild and very unpredictable. This is their home so please respect that by staying at least 25 yards away. Because the park does have rattlesnakes it's also important to keep an eye out while you're exploring in the shaded regions and avoid trekking through tall prairie grasses where they often seek shelter.  
2. It's basically where Paleontology as a science begins for the American West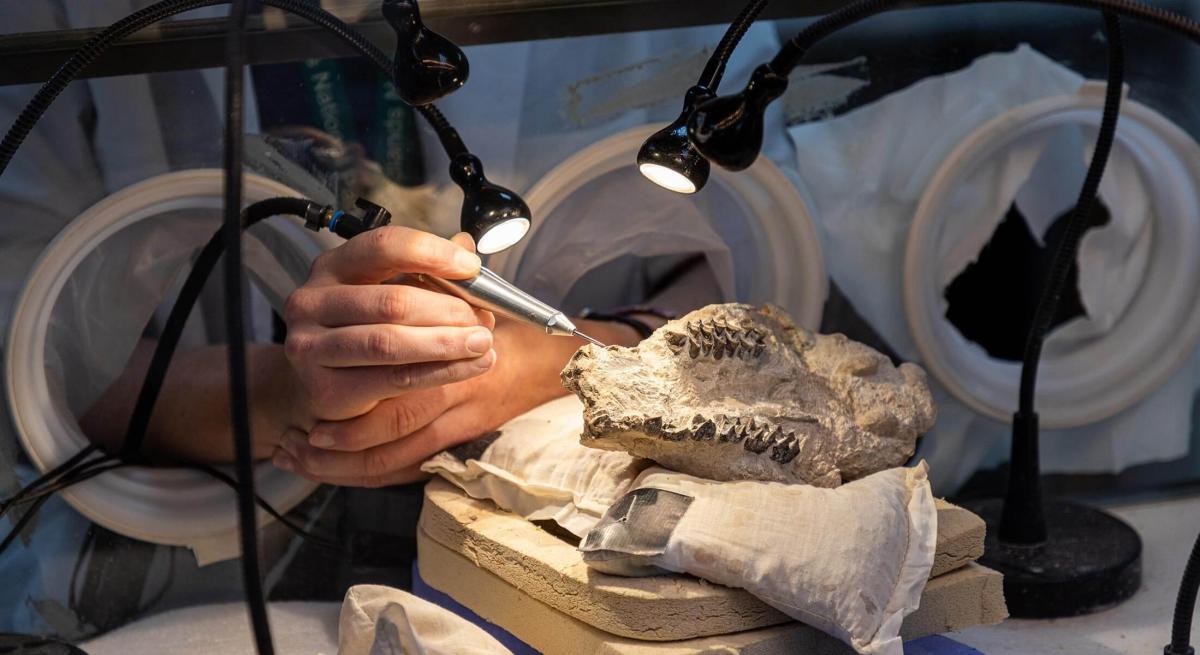 There are so many deeper stories to be told about the Badlands for those who want to go beyond just appreciating the views. You don't have to be an aspiring Paleontologist to be wowed by what the Badlands offers to this science. An interesting fun fact: every major natural history museum you can think of in America has done field work in the Badlands, and many have fossils from the area on display. 
Things you can do to learn more during your visit:
This combines the stunning views of the park with its history! This outdoor natural history trail offers informational plaques with companion Braille, and tangible replicas of fossils for people to touch and feel for a sense of size, shape and texture. The trail is also wheelchair accessible. Find more accessible outdoor adventures here.
The Working Paleontology Lab
During the summer the park offers a unique look at paleontology in action. Located within the Ben Reifel Visitors Center anyone is welcome to come in and watch the process of cleaning up fossils. Park Ranger and Paleontologist Ed Welsh shared that there is also a fossil site they like to point out to visitors right outside the Visitors Center where about a decade ago a kid found a saber tooth cat! 
Visit On National Fossil Day
The Badlands are one of the sites for National Fossil Day! The perfect occasion to visit for any fossil lover, but not the only. Fossil discoveries happen all the time in the park, in fact, they encourage citizen science. Visitors are part of the team when it comes to park discoveries, so as you explore if you see anything interesting come back and report it.  
Extend the Learning at the Museum of Geology 
Located in Rapid City, this free museum on the campus of the South Dakota School of Mines are one of the Badlands National Park partners. They have one of the best collections the White River Badlands has to offer.
3. There's never a bad time to visit it just depends on what you want to see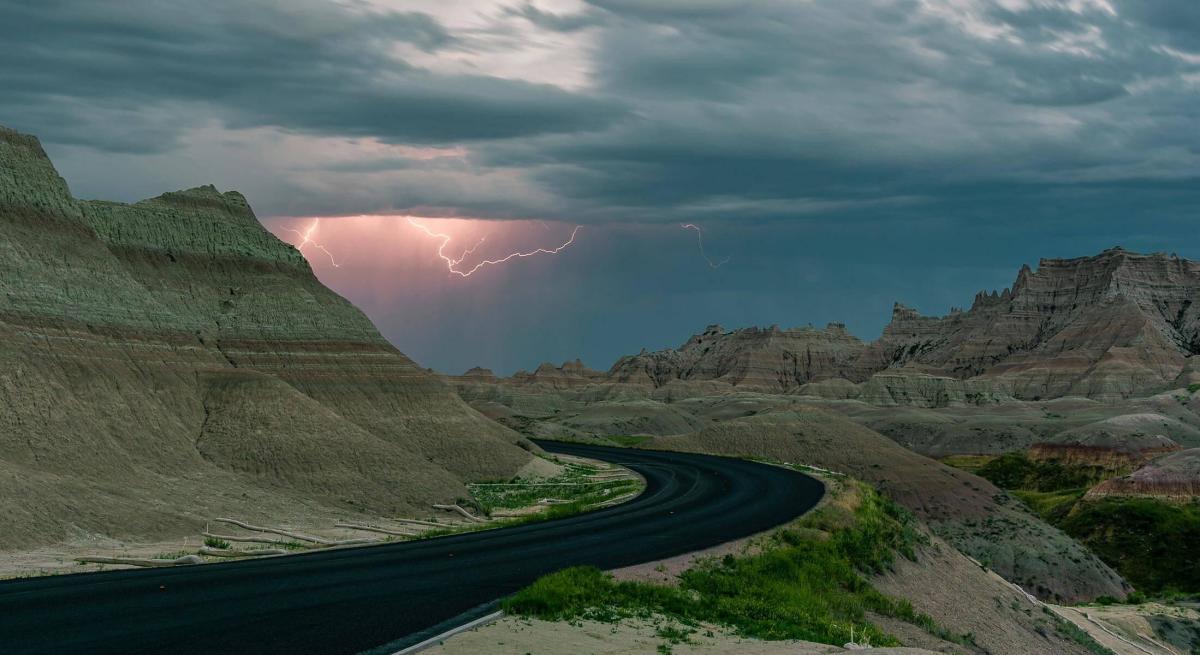 While every season might not appeal to everyone – there is something special about each one in the Badlands. Year round you can expect to find incredible views, mesmerizing sunsets and sunrises, and the best spot in the state for incredible star gazing.  
Summer is the most popular time for the park. It's the season with the hottest temperatures (always bring lots of water) and is also when the park has the most things going on from Park Ranger activities to events like the Astrology Festival. 
Fall brings fewer visitors, cooler temperatures, and while it's not as shocking as the fall colors in other areas around Rapid City – it does offer its own little seasonal show that is just as beautiful. 
Winter is one of my favorite seasons to explore. If you can tolerate cooler temperatures and are comfortable driving on winter roads, I highly recommend. The Badlands dusted with snow is incredible, you basically have the park to yourself and witnessing a bison plow through snow with their head is fascinating. 
Spring brings rain and sometimes wicked thunderstorms to the area, but what many don't realize is that rain adds a shocking vibrancy to the layers of the Badlands. They really pop! Combine that with some moody skies and wow, it's incredible. 
There are so many incredible things that can be said about the Badlands that I could have extended this to more than three. If you want to learn more about this incredible park check out this video with Park Ranger and Paleontologist Ed Welsh.